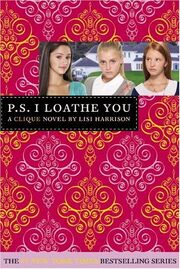 P.S. I Loathe You is the tenth book in The Clique Series.
Summary
The trash has doubled since the boys of Briarwood Academy arrived, and because of that, there's been a pigeon infestation. As the girls are going to laugh at their ex-crushed in Tiffany box trailers, pigeons are taking a dump everywhere. Dylan, Alicia, and Kristen are all pigeon-painted. Kristen jokes that it's good luck to be marked, and the other girls smile, but stop when Massie remarks that they don't look so lucky. When they reach the trailers, they see that the boys had Massie's robin's-egg-blue trailers turned into masculine, plain boxes.
Back Cover
Massie Block: When the Pretty Committee deems its boy-fast null and void, boy fever sweeps through BOCD. What better way to back-handspring into new crush Dempsey's heart--and make old crush Derrington jealous--than cheer for him on the soccer field? And just like that, Massie forms BOCD's first-ever cheerleading squad. But will Massie still have something to cheer about when Dempsey starts spending ah-lot of time with LBR Layne Abeley? Give me an "E" for Ehmagawd!
Kristen Gregory: With Massie and her SBFF (secret best friend forever) Layne vying for the same boy, Kristen has to make a choice: A) the Pretty Committee, or B) the Witty Committee. And if she doesn't choose fast, she'll end up C) Committeeless.
Dylan Marvil: Is hiding something, and it's not just those peanut butter Luna bars stashed under her mattress. She's got a secret crush on Derrington--and it's no secret that he likes burpilicious redheads. . . .
Alicia Rivera: Prefers pliés to pom-poms, especially when Massie orders her to the bottom of the cheer-pyramid. Can Alicia accept her beta status, or is it time to become alpha of her own squad?
Claire Lyons: Now that she's back with Cam, Claire finally has her love life in order. But her friends are trading crushes like styling tips. Will the Pretty Committee survive the boy-swap intact, or is the Clique about to come apart at the seams?
The Clique . . . the only thing harder than getting in is staying in.
Trivia
Marks the first appearance of the Socc-hers.
Title is a play off of the book and movie "P.S. I Love You"
Community content is available under
CC-BY-SA
unless otherwise noted.