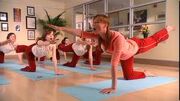 Octavian Country Day (also known as OCD) is the all-girls private school that the Pretty Committee attends.
The school was temporarily renamed Briarwood-Octavian Country (or BOCD) after the Briarwood school was flooded by a wave pool which forced the boys to attend the school while it was being repaired.
OCD does not have a uniform dress code because they believe in freedom and self-expression, but after the Pretty Committee wear inappropriate Halloween costumes to school, the school introduces a school uniform design program, but due to some meddling from Massie's father, William, the uniforms don't happen.
The school's tuition is $40,000 a year and the home of thirteen Fortune 500 CEOs, seven gold-medal Olympians, four Pulitzer Prize winners, three Oscar winners, two senators and one Secretary of State.
School Features
Edit
OCD has various rooms such as dance studios, yoga rooms, a soccer field, a darkroom for photography and a bomb shelter.It also has a Starbucks' kiosk where the Pretty Committee visits in between classes.
One of the best features of OCD is the cafeteria (also known as The Café).
Teachers and Staff
Edit
Only a few teachers make appearances in the books and movie.
The principal is Principal Burns, the nurse is Nurse Adele, the geography teacher is Mr. Myner and the art teacher is Vincent (in the movie).
In the books, Mrs. Nish is the art teacher, the Synchronized Swimming teacher is Miss Kuznick and Joel Morris is the history teacher.
also during "bratfest at tiffany`s" when Massie Block, Claire Lyons, Kristen Gregory and Dylan Marvil were tricked by Alicia Rivera and had to go to the Containers they`re teacher was Ms Dunkel in the same Book Claire`s sexual teaching teachers name was Gina.
Community content is available under
CC-BY-SA
unless otherwise noted.