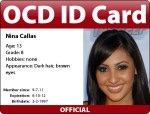 Nina Callas is Alicia Rivera's maternal cousin from Spain. She makes her first appearance in Invasion of the Boy Snatchers as a foreign exchange student and also appears in Alicia (Summer Collection).
Personality
Massie was expecting a dorky, Sears-wearing girl, but is surprised to find that Nina is a slutty and sexy eighth-grade girl with a lot of confidence. Nina is confident and beautiful, like Massie. She threatens to take over Massie's alpha-status and attempts to steal their crushes.
Later, Massie, Claire Lyons and Alicia find out that Nina has stolen her fabulous boots and clothes from her sisters and also stole numerous items from The Pretty Committee and other girls at OCD (including Alicia's Ralph Lauren socks, a pencil case, Massie's Glossip Girl lip gloss and an expensive MontBlanc pen).
It is assumed that Nina suffers from kleptomania because the things that she steals have little value. When the Pretty Committee reveals Nina's crimes by dumping the stolen items onto her, she is horrified and gets caught by the police.
Nina is described as a slut and most of the girls at OCD are fooled by Nina's good looks and experience with boys. The students think that she knows everything about boys and that she's nice and pretty. They even take her slutty, sexy fashion tips.
Appearance
Nina is described as a prettier version of Alicia with D-cup boobs that make Alicia's look like a back. She has long, beautiful thick black hair with delicate flawless skin and pretty dark brown eyes, although in Alicia: The Summer Collection, it is said she has hazel eyes.
In the same book, it is mentioned that she dyed her hair platinum blonde and cut it like Dora The Explorer because her sisters forced her to as revenge for stealing their shoes and clothes.
Nina's wardrobe is described as "sexy" with tiny little dresses, belly tops, little red thongs and micro-minis.
Family
Nina has twin sisters named Isobel & Celia. Her cousin is Alicia Rivera.
Love Life
Nina wins the Cutest Couple award along with Massie's crush Derrick Harrington (whom she calls "Derringtons"). She also goes to the dance with Cam Fisher and Josh Hotz just to make Alicia, Massie and Claire jealous.
Trivia
Community content is available under
CC-BY-SA
unless otherwise noted.