Claire was released August 5, 2008. It is the fifth and final book of the Summer Collection mini-series by Lisi Harrison. It's about Claire Lyons.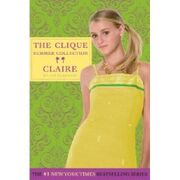 Summary
Claire's Florida BFFs became BFFs. Back in Orlando for the summer, Claire is reunited with her Florida colleages, Sarah, Sari, and Mandy, after a long year apart. Her BFFs haven't changed at all. Too bad they think Claire has changed . . . and not for the better. Claire sets out to prove her loyalty by entering Kissimmee's Miss Kiss pageant. But when a very special caller shows up and vows to win the crown, Claire finds herself torn between Keds and couture. Will Claire finally have Massie win her over?
Plot
Back in Orlando for the summer, Claire is reunited with her best friends Sarah, Sari, and Mandy after a long year apart. When Claire Lyons' friends go to luxurious places for vacation, she goes back to Kissimmee, Florida. Which is great for Claire, because she gets to meet her old friends again. But when Massie makes a surprise visit, Claire has to chose between her old friends, and her new friends which is a tough decision. When Claire hears about the local Kissimmee pageant her friends decide to enter and so does Massie! While she's the judge Claire makes an effort to actually help her friends win this thing the whole thing disapoints when she gets blamed and kicked out of her job and losing friends? Who will Claire choose Massie or her FBFFs (Florida best friends forever)?
Community content is available under
CC-BY-SA
unless otherwise noted.