Alphas is the first book in the "Alphas" series, a spin-off of The Clique.
The Back Cover
Edit
Thousands applied. One hundred got in. Only one will get in.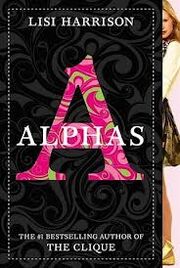 Eccentric billionare Shira Brazille founded the super-exclusive Alpha Academy on exotic Alpha Island to nurture the next generation of exceptional dancers, writers, musicians, and inventors. It's a dream come true for one hundred lucky girls, but those not measuring up will be sent home at any time, for any reason. The one left standing will win worldwide fame. Who will it be?
Skye Hamilton- Known for her dance moves and ability to make superfast connections with boys, Skye plans on taking the alphas by storm-and lip-kissing all of Shira's superhot sons.
Allie A. Abbot- Is one little initial away from superstardom. So when Allie J. Abbott's invitation to Alpha Academy arrives on her doorstep, she does what any other crafty girl would: commits identity theft. Can she keep up the charade?
Charlie Deery- Beta-for-life Charlie is offered a last-minute place at the Academy, but there's an admission condition: dumping her boyfriend - Shira's son. It's hard to claw her way up when ninety-nine girls are waiting to sink their claws into her superhot ex...
If at first you don't succeed, then you're not an alpha.
Name: Skye Hamilton
Age: 14
Hometown: Westchester, New York
Best school subjects:
Math (Hawt boy + me = lip kissing)
Fashion Design (Have you heard of dance sleeves? You will)
Poetry (I love making words rhyme, I think o' them all the time)
Social Studies (mainly my own)
Groups, charities:
DSL Daters: Alpha
Mini Cupcakes 4 Children of Divorce: Sprinkle Supervisor
Body Alive Dance Squad: Team Leader
Fashion Faux-Paws: Fake-fur Advocate
Electric Beach Tanning Salon: Elite Status Member
Extracurriculars:
Making superfast connections with boys
Modern dance, hip-hop, ballet, and tap
Body Alive Dancewear muse
Animal lover
What makes you an Alpha: What doesn't?
Why would you stand out at Alphas Academy: I dance circles around the competition. Literally.
Your Alpha motto: Just dance.
The girl on the front is Skye.
Alphas is the only book in the Alphas (or Clique) series with a one word title.