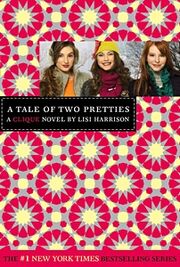 A Tale of Two Pretties is the fourteenth and final book in The Clique Series.
Back Cover
Massie Block: Has always had the best of everything. An ahhh-some mansion. An ah-mazing Clique. An ah-dorable pug. And the best wardrobe that money can buy. But now she has a deep, dark secret that's worth more Gossip Points than an A-list celebrity's secret plastic surgery: Her dad lost his job and the Blocks are broke. Will Massie still be on top without her Platinum AmEx, or will her faux gold make her a faux pas?
Alicia Rivera: After her many failed attempts at being an alpha, she's happy being second in command. But when a psychic tells her breaking the beta barrier is in her near future, Alicia needs to change her fate--stat.
Dylan Marvil: The Kardashians and their big butts need to move over--the Marvilous Marvils are taking reality TV by storm. Dylan and her family are starring in their own show, but only if Dylan can keep her big mouth shut.
Kristen Gregory: Can play soccer with the best of them, and now it's official: The most elite traveling team in the Northeast wants her as a member. But that means no more sleepovers or GLU spa days. Will Kristen choose the Soccer Sisters over the Pretty Committee?
Claire Lyons: After living in Massie's backyard for the past year and a half, Claire should be ecstatic with her parents' Christmas gift: a brand new house! But then Massie delivers news that may mean the end of the Pretty Committee...forever.
The Clique...the only thing harder than getting in is saying goodbye.
Plot
Massie is busy dealing with her newly poor family, Claire is dealing with no longer living with Massie, Kristen is balancing the Soccer Sisters and the Pretty Committee, Alicia is dealing with her fate, and Dylan is working out her reality TV schedule. How will it all go down?
Trivia
The title is a play on the old classic book "A Tale of Two Cities".
This is the final book of "The Clique" series.